In Conversation with Creative Director Natacha Ramsay-Levi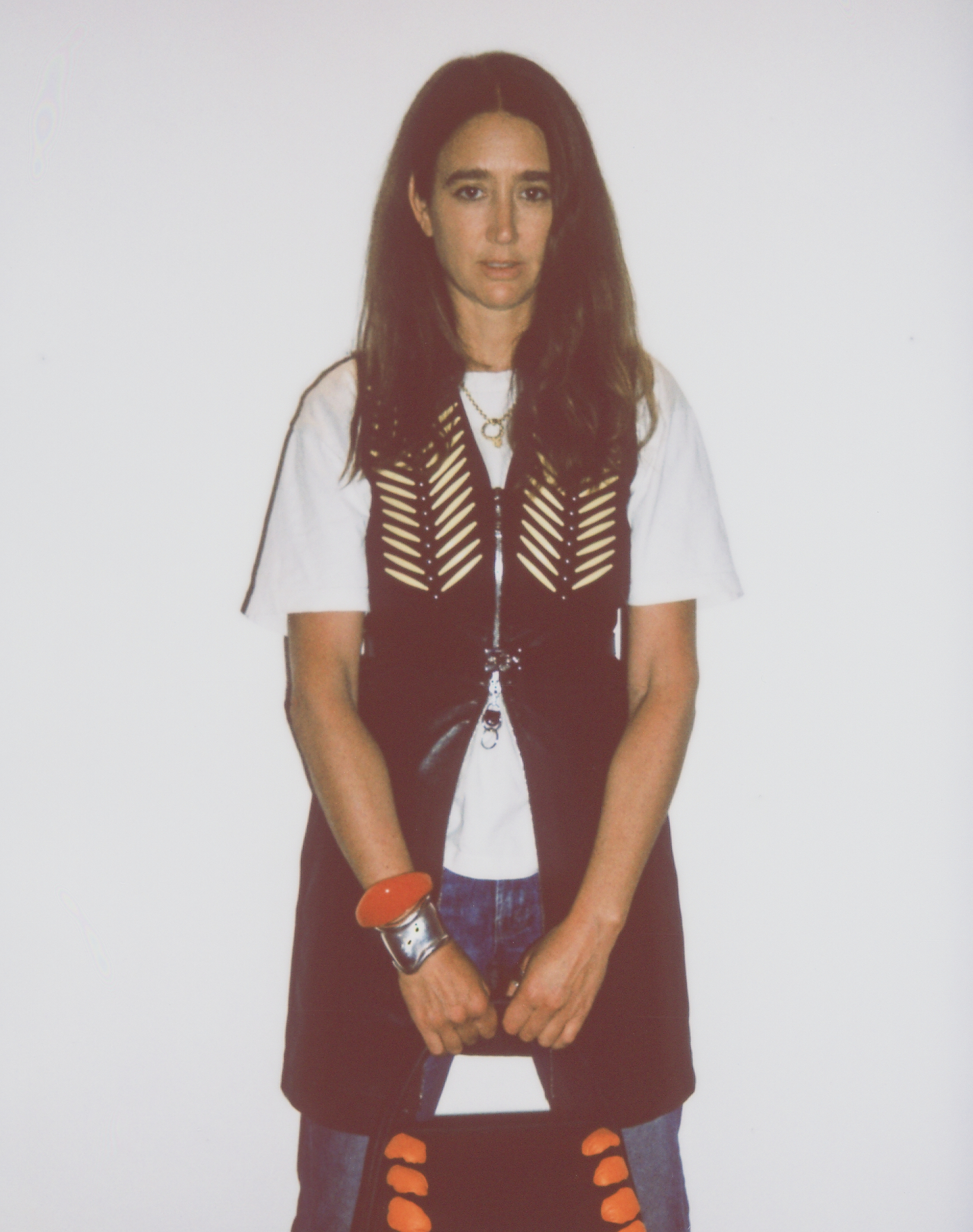 What attracted you to being involved with At.Kollektive?
There were many elements that excited me about the project. I stopped Chloé last December, and I just wanted to work differently, basically. This project came along right at that moment and it was a total coincidence; but it just fully matched with my ideals of how I was looking to work, for various reasons. The first is that it's a small, focused project, in terms of the number of products; only nine, in total.
It was a nightmare to choose, but also refreshing, because when you work in a fashion house, if you put everything together, the clothes, the accessories, it must be about five hundred pieces, for just half of the season. So, I loved the idea of getting back to one product, one thought. You can dedicate your attention properly; everything you choose becomes a commitment. It's not like doing 500, and then in the middle of the 500, there will be something good; it's just that all nine have to be good. And that's a really exciting and new way to work, because it's been years and years since designers have worked like that. It felt right given the conversations we are all having around substantiality. 500 pieces, every three months, is never going to be sustainable. It's just too much. With this project, I felt I could do what I love - designing products, objects, ready-to-wear - but in a very selective and considered way. It was a very creative path, because the brief was so open, it was full carte blanche. And I think that when the client buys the piece they will feel that creativity, that connection, and my work on their piece. It's very personal, and original.
So, you see this project as a chance to be involved in a new way of designing, a new way of creating fashion?
One of the questions I have been asking myself for a long time as a designer is how can the process of designing be lovely, be rewarding. Because when I started out my career, I loved to design, to get on the mannequin and do my own thing, and spend time working for hours in the atelier. As a creative director, you end up not having time for that. But this was like going back to that – working alone, directly, without a huge team, and talking directly with the suppliers, and creating what I want. I haven't worked that way for many, many years, without having other voices telling me, 'we need it this way' or 'we want that.' Here, I could just think of what I like, what I believe in, what I think is right for a leather company. I really enjoyed it. I felt young – not quite like a student, but close. The love I have for this job came back to me, through being able to try things, to do things without knowing exactly what the result would or should be. It was about going back to instinct, and being adventurous. I feel like so many designers are searching for this, and for a better way of working, and I feel lucky to have been able to be involved with this.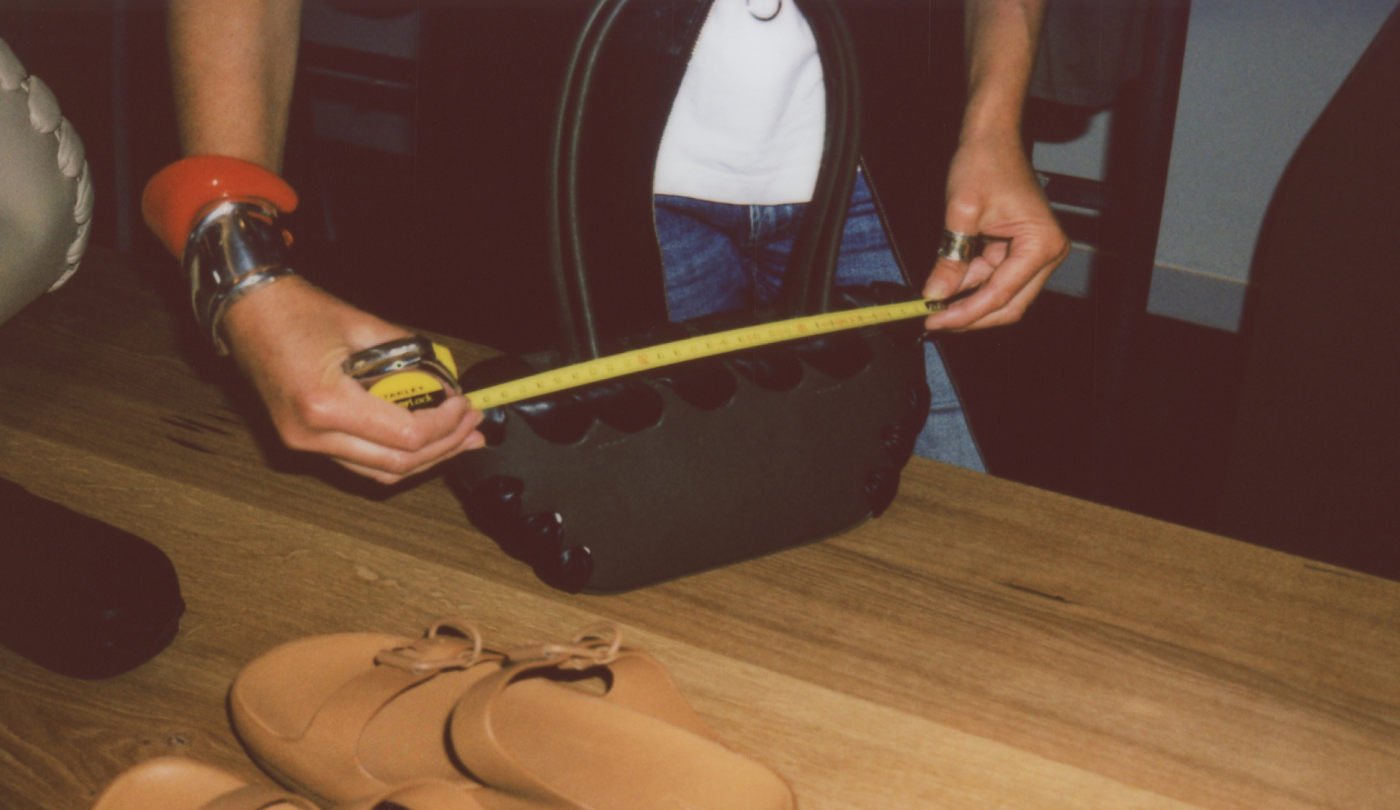 How was the experience of working only in leather? Many of your pieces seem to nod to classic leather pieces from the history of fashion, like bikers, creepers?
It's always part of my process, to look back, to the past, to classics; to take something that is very iconic, well known, but just tweak a little the proportions, the details. It's about memory; working with emotions and memories in objects and products; that's central to how I design. With this collection, I wanted to make pieces that you want to grab and wear everyday - because leather is such a great companion for life. As the collection was so small, I really felt that every piece had to be really strong, in itself. I didn't approach it like a full collection, much more like great individual objects.
Tell us about the bags. There is a distinct woven detail – what was the inspiration behind that?
I think, though I didn't realise it at the time, when you look at all the final objects together, one thing that unites them is the idea of a clash of two materials, or two different contrasting elements. Putting two things together in conversation and seeing how they react. You see that with the shoes, and also with the bags. The idea of the weaving is a very classic, very old-school technique from the world of leather. But it was fun to contrast tradition by doing the braids is a very soft, very puffy Napa leather; almost exploding the detail. It's a basket weave, but done in a very new, very contemporary way.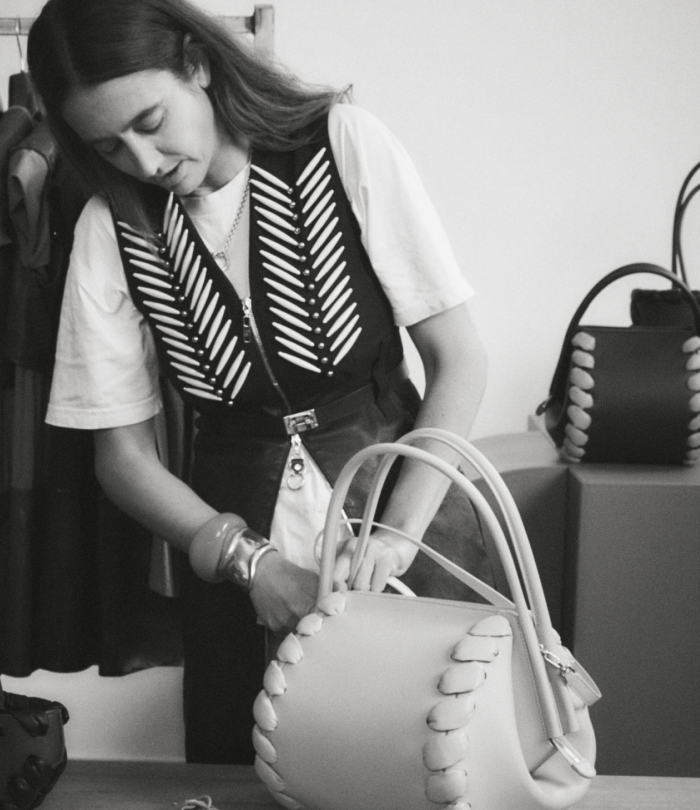 And furniture is a totally new endeavour for you?
Yes, I am a fashion designer, not a furniture designer, and I wouldn't pretend to be one. So I wanted to make something a bit special, a bit weird. I wasn't aiming for the perfect furniture. More a point of view on furniture - an object that can be loved or hated, but that has clear perspective.
And how did it feel to be one of four designer taking part?
That was another part of the concept that I liked, the idea of a collective. I really loved the fact that everyone is equal. It's one collection, made by forces of natures, and we are all on the same level. There is something humble about it, for me, because fashion is so obsessed with the idea of number one, creative director, master chef! I have never been interested by that. I was happy to share a creative process, and share a collection together.
And it's fascinating how different each designer's objects are, no?
It is. I did worry for a while that all the other designers were more minimalist than me, whereas I am more "south European" in my sensibilities! But I think the mix is beautiful. I think that was the aim of the project; a celebration of different perspectives, and different takes on leather.